New library bus drives children's imagination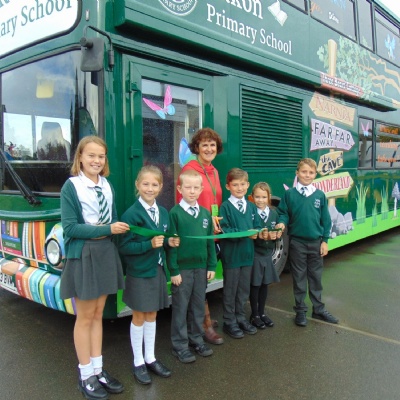 The grand opening of our new library
Tuesday 24th September was a special day for local Shepperton school, Saxon Primary, who officially opened their new library bus.
The bus, which was funded in part due to the dedicated work of the Saxon School Association as well as grants gratefully received from Tesco Bags of Help and Garfield Weston Foundation, is an innovative and engaging way of making best use of physical space to create an inspirational learning environment for inquisitive and developing minds.
The celebrations were kicked off with a school assembly led by guest speaker Adrienne Dines. Born in Dublin, Weybridge resident Dines is the author of the celebrated fiction novel, The Jigsaw Maker, as well as a speech-writer and a member of the American Women of Surrey Writers' Group.
Adrienne inspired the children during the assembly with her insights on the power of imagination and how it can introduce new worlds and opportunities for young readers. She explained how exploring and building their imaginations through reading high quality texts could open a whole host of new doors and avenues, inspiring them to be whatever they wanted to be.
Following the assembly Saxon pupils, along with Adrienne, took part in a ribbon cutting for the new bus and explored the library which will be open for Saxon children of all ages to enjoy and use.
Mrs. Davis and Miss Morris were delighted with the excitement and positivity the children have shown towards the new school resource as well as the hard work put in by teaching staff to ensure the bus is a vibrant and stimulating space. They said "the children are at the heart of all decisions that are made about the provision at Saxon and learning both in and out of the classroom is designed to develop the children's skills as a learner, as well as their social and personal qualities. We are convinced that the new library bus will add an extra dimension to our aim of creating diverse opportunities for growth and we look forward to seeing the new library being an integral part of everyday learning for the children."